---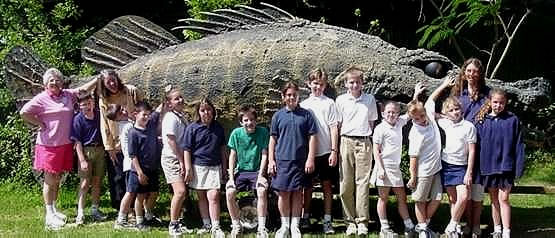 These teachers and students learned that all museums are not boring. Both the teachers and students had a fantastic time at the museum!

Basic Tour: This field trip is teacher/student led and assumes that the classroom teacher will, with the handouts we provide, facilitate all learning opportunities. Admission may include handouts and unlimited (usually 30 to 60 minutes) time in the museum's exhibit area. The Abita Mystery House can handle up to 45 students at one time on this tour. Tour prices are for groups of ten or more paid students. The admission is only $2 per student, all teachers and adult chaperones are free. Our gift has lots of educational toys and gagets, even items priced under $1.
---
We highly recommend that anyone planning a field trip should first come preview the museum. When you come, just let the clerk know you are visiting us with the idea of bringing a group and you are our guest.
---
ABITA MYSTERY HOUSE, 22275 Hwy. 36
Abita Spring , LA 70420
Tel. 985-892-2624
Copyright 200-2012 by John Preble