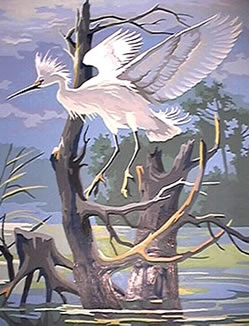 The Abita Mystery House has a large collection of "PBN's" on exhibit at all times.

This genre of painting began when Max Klein of the Palmer Paint Company got together with the artist Dan Robbins and made everyone an artist. The motto of Craft Master, the major paint by number company, was "Everyman a Rambrandt!" By 1954, more than twelve million sets had been sold.

A look at the many themes of these sets is interesting. There are manly themes: hunters shooting ducks, bulldogs, and fishing fantasies; there are girlie themes: florals and ballerinas; there are western themes: rocky canyons, gunfighters, and cowboys; there are Spanish themes: bullfighters and flamenco dancers; there are fine art themes: Mona Lisa, Blue Boy and Pinky; there religious themes: The Last Supper, Angels, and The Virgin; there are travel themes: Paris street scenes, gondoliers in Venice and Oriental rice farmers; there are animals: dogs, cats and horses; and there are Hollywood themes: Roy Rodgers and Trigger, Batman and Lassie.

We are currently exhibiting the largest paint by number that was created for the retail market. This piece is from the marvelous Linda Carrington collection of Sarasota. Florida. This fantastic piece on exhibit in its original frame in our wedding chapel.