Crazy Post Cards - Page 3
For an index of our postcards, Click Here.
Our exhibit of wacky postcards is enjoyed by all who visit the Abita Mystery House. Here's a few of our cards for those who can't make it to Abita Springs.
Around 1910 the Martin Post Card Company made a great series of cards. Their documentary work of U.S.A. agriculture inspired many farmers.


The caption says: Back in 1905 with 51,000 bottles, Tom Kelly built the "Bottle House" Rhyolite, Nevada. Tom also wrote the song "100 Bottles of Beer".

Is this Tom's house before he added the porch? The caption on the card says "The Bottle House, Bullfrog Mine Co., Nevada, Built of 16,000 Empty Bottles. So what is it, 16.000 or 51,000.

Another unusual house build of bottles. Bottoms up.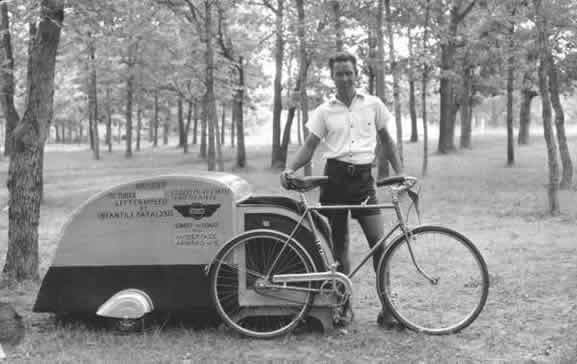 Starting out on Feb. 15, 1938 James T. Facc of Ashland, Wis. towed his "Trail-A-Built" trailer with a bicycle. He sold souvenir pictures (postcards like this one) during his travels. Curiously, James had painted over the pictures "for sale" sign on trailer. According to the verbiage on the trailer, James was left crippled by infantile paralysis. For a large close-up of the bike and trailer, click here (large slow loading image). If anyone has more info about James, his bike, and his trailer, we would like to know about it.

Here's our hero at the Fountain of Youth. For a close-up of this photo, click here.
For an index of our postcards, Click Here.